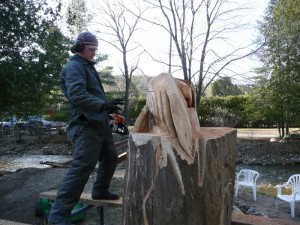 Jim Leithead is a chainsaw artist and metal sculptor who makes his home in Dunedin, ON, near Creemore and the Purple Hills.
Jim's first carving was a spontaneous carving in Hockley Valley. While cutting snowmobile trails, he had discovered a six-foot tall stump that seemed to be, in Jim's words, "Looking at me."
A few hours later, the stump had become a hawk, perched and peering around a tree, and Jim's new calling had begun. Since that first bird of prey, Jim has created a stunning body of work, ranging from elegant indoor pieces to huge totem poles and outdoor metal sculptures.
Chainsaw Carvings
Jim's chainsaw carvings are done entirely with only tools: a regular 16″ chainsaw, and a 4 1/2″ angle grinder with a sanding disk. No chisels, motorized burrs or any other type of carving utensil is used.
Each piece is unique, ranging from outdoor carvings that age and weather naturally, to indoor sculptures of beauty and elengance. Many pieces are carved from historic wood such as old barn beams and posts. Others, like totems, are carved from free standing stumps and tree trunks.
Metal Sculpture
Using everything from scrap metal to old horseshoes, Jim fashions indoor and outdoor metal sculptures that range from delicate wall pieces to large scale outdoor installations.
Snow & Sand
Using large ice blocks, packed snow, or prepared sand, Jim creates temporary installations for events, festivals and corporate displays.